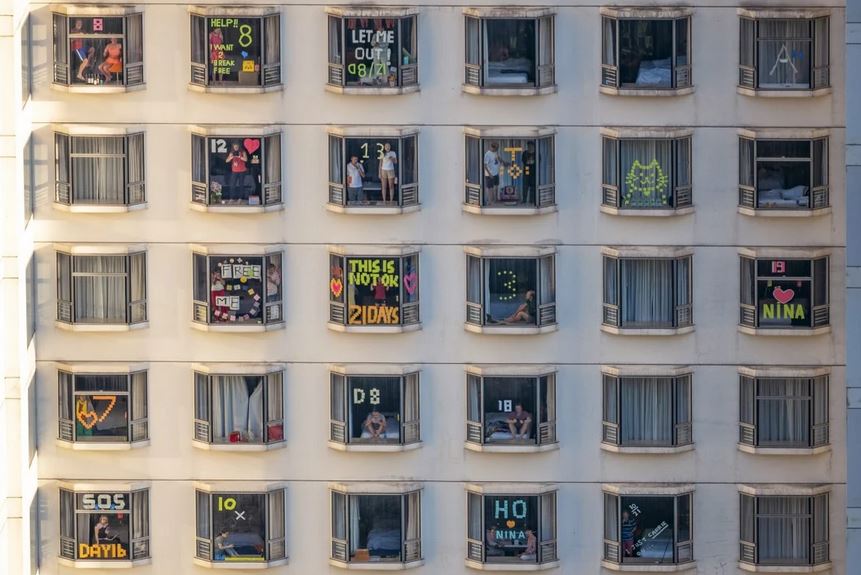 bowers.law partner Kevin Bowers recently returned to Hong Kong from the USA and shares his Top Tips for surviving (enduring) the covid-screening at Hong Kong International Airport (HKIA) and mandatory 21-day Hong Kong hotel quarantine when arriving into Hong Kong from a high-risk designated covid country.
The whole covid-screening and 21-day hotel quarantine process is tough-going for the hardiest of souls, so here are my Top Tips on how to get through the physically and mentally challenging experience. I went through the process on my own, so cannot speak for how the experience impacts upon a couple or family going through it together – I suspect it's a very different experience, as I found the mundane and monotonous living really hard to go through in complete solitude with zero personal / physical face-to-face interaction with anyone else for 3 weeks. Everyone has their own individual survival and coping mechanisms, but here are my Top Tips which either worked for me, or which I learned from my own mistakes going into or during the process.
HKIA (arrival and covid-screening)
Returning to HKIA on a CX flight from JFK involved a 6-hour 8-step arrival / covid-screening process from touchdown until arrival at my designated HKG quarantine hotel.
Before Arrival at HKIA
check the fine detail on all of your documentation (i) flight itinerary (ii) vaccination record (iii) negative covid-test certificate issued within 72 hours of departure – make sure that (a) the covid test is an accepted class of test (b) the 72 hours expires after the departure of your final transit flight to HKG and not your first flight (I made it by about 2.5 hours) and (c) the testing organization has printed your date-of-birth and other personal details correctly on the certificate to avoid the HKIA inspector spending an additional half an hour on your documentation with you and the airline (iv) covid-test laboratory certificate – make sure that the testing laboratory is one of the accepted classes of laboratories (v) positive covid anti-body clinical biochemistry report – make sure that the issuing laboratory / hospital is one of the accepted classes of laboratories / hospitals, and (vi) HKG quarantine hotel reservation confirmation / voucher
have both printed hard and electronic soft copies of all your documentation – which makes it easier / quicker for the various HKIA inspectors to process the mind-bending amount of required documentation at the 8 covid-screening stage posts
complete your online HKSAR Department of Health "Health & Quarantine Information Declaration" for arrival into HKIA before you land (to avoid a stressful and worrying first 20 minutes of the arrival process in the first of several holding areas – I was worried and stressed) !
Upon Arrival at HKIA
after inspection of your completed online "Health & Quarantine Information Declaration", HKIA will send a QR code to your phone which you will need to have repeatedly scanned throughout the 8-stage covid-screening process, so don't delete it !
you will also be issued with a paper HKSAR Government Compulsory Quarantine Order (CQO) which you will need to produce throughout the 8-stage covid-screening process and when checking-into your quarantine hotel, so don't lose it ! The CQO has a unique serial number in the bottom right-hand corner.
try to nab a baggage trolley as soon as you can when disembarking from your flight (they were as rare as rocking horse poo when I came through) because there is a long, long, long way to walk from the arrival gate to the finish line, and no way out of or short-cuts around the designated pathway
have a warm jumper or coat in your hand luggage – the holding area immediately after your arrival covid test is absolutely freezing, so if you've arrived into HKIA without covid and without something warm to wear, there's a real risk that you'll be leaving HKIA still without covid, but with pneumonia !
pack some tasty (filling) snacks in your hand luggage – a bottle of water, a pack of cheesy Ritz crackers and a plastic processed white bread sandwich (with indeterminate filling) didn't do it for me during the 2.5 hours I was sat waiting at my designated desk (so also have a topped-up phone-charger with you) !
after keeping arriving passengers responsibly socially distanced throughout 7 of the 8-stage covid-screening process, the final 8th stage in the queues for the government bus to whisk you away to your quarantine hotel is a scrum, so you'll have to try to keep your own social distance !
if your quarantine hotel isn't the first stop for your bus, keep a close watch out of the bus window to make sure that your luggage doesn't leave the bus at a different hotel to you – the bus pre-boarding luggage labelling system is chaotic !
Quarantine Hotel (21 days)
pre-order exercise equipment – it took me a few days to summon up enough 'umpf' to start walking on my treadmill, but ended up doing 5km each morning and evening after my initial reluctance (at between 5.5 – 7.0 km/h to make it a proper work-out and real challenge), so ended up walking exactly 150km during my enforced stay (160km was my target, so I only just missed it because of some built-up lethargy and anxiety during the last couple of days of my captivity)
whatever your preferred form of exercise, it's vital to have some exercise equipment in your room – for mind, body and overall well-being ! I found it hard mentally to start exercise at the beginning of my quarantine and to continue it the closer I got to my release date (KEXIT as it was coined by some bright-spark in the office), but it's really important to keep your discipline and a steely perseverance to make sure that you're able to keep calm and carry on exercising !
make sure that your hotel accepts cooked food deliveries (from family, friends, Deliveroo, foodpanda etc) as the outsourced quarantine menu is revolting – rice, mystery meat and sauce every day for lunch and dinner !
make sure that your hotel accepts raw food deliveries (e.g. milk, bread, fruit etc – luckily, M&S delivers to the Sheraton TST) !
ask family / friends / colleagues to deliver chopsticks / china plates, bowls / metal knives, forks, spoons etc as eating out of paper / plastic tubs with cheap plastic (useless) utensils for 3 weeks isn't in the least bit satisfying – from whichever restaurant you've ordered !
try not to order in too many unhealthy tasty snacks, because you will eat them all (I know) !
for me personally, staying off the booze completely for the whole 3 week period of incarceration was important, as I didn't want my already pretty fragile mental state even more negatively impacted by a raging hangover or by having the morning-after "fear" (as my mates and I call it) ! My KEXIT drinks get-together this evening will be a different experience altogether !
try and book a hotel with a changing natural (non-city) view (easier said than done, I know)
make sure your Netflix / Amazon Prime / Movies123 subscriptions are up-to-date – you'll need them all !
try to have a rough daily routine – whatever it is !
pack a couple of decent books to read, just so that you're not watching the limited hotel TV channels and your laptop for about 99% of your waking hours
watch out for unusual sleep patterns – mine were well out-of-sorts during my 3 weeks of "porridge", but I actually managed to sleep more than I usually do (which isn't very much anyway) !
be prepared to wake-up disorientated / disappointed / frustrated – the moment when you realise where you are and where you will have to be for a pretty long time – although this feeling gradually receded for me after the first week or so…
make sure that you have enough clean clothes upon arrival – wearing the same pair of shorts for 3 weeks isn't recommended (ssshhh – don't tell my mum) !
pack your own washing powder, unless you want your sweaty treadmill PE kit to make your cell / room smell like an old gym
make sure you have enough of your own preferred fragrant shampoo / shower gel etc to last the entire hotel sentence – just to keep a sense of normality about how you feel / smell
if you have the option, shower don't bath – you'll have had enough of lying down on a hotel bed (trust me) and standing under a power-shower is definitely more invigorating and energizing than lying down in relaxing hot bath – you really won't need any more relaxing time, believe me !
pack your own dish-washing liquid, unless you want your beige hole of Calcutta (my room was really very, very beige) to smell like the Gunga Din Indian restaurant (I ordered a few delivery curries) – the bottle provided by the hotel was tiny and the QR code process for ordering replacement "amenities" was really annoying (the same goes for the washing powder)
maintain regular contact with family, friends and colleagues by telephone and Zoom calls…it really is nice to receive calls to keep your spirits up (just don't let them tell you that they're going to a cool beach restaurant for a long lunch in the fabulous weather over the weekend – you know who you are) !
keep interesting things to do for public holidays and weekends, as without a constant stream of work emails / calls / Zooms to keep you busy and preoccupied, time passes even slower – the same goes for the last few days of the enforced captivity as the closer I got to KEXIT (11:59 pm on 4 October), the slower the time passed – and it passed really slowly by the end !
after receiving your final negative covid test result (by sms) in the hotel (I had one every 3 days, the last one on day 19), make sure to contact the hotel reception as soon as you can to confirm your check-out arrangements, or you may end up be at the back of a long hotel check-out queue
if the day after your own KEXIT isn't a public holiday or a weekend, do try to take the day-off work to have a "me day" to sort yourself out (personal admin, logistics etc) and to reconnect in person with family, friends and colleagues – out of the workplace, and definitely not in a hotel !
The whole process is pretty brutal (bordering on the sadistic), so try your best to Maintain a Positive Outlook (hard to do, but you have to try your best) !
Here's to the mandatory HKG hotel quarantine requirements ending as soon as (humanely) possible !
Ps. I have an appointment at the barbershop tomorrow afternoon for a long-overdue haircut and to shave off my 3-week-old beard, so if you bump into me before then, I'm sorry for looking like the wild man of Borneo !
For more information and assistance, please contact Kevin Bowers at kevin.bowers@bowers.law
This Newsletter is not intended to be and should not be relied on as legal advice. You should seek professional legal advice before taking any action in relation to the subject-matter of this Newsletter.