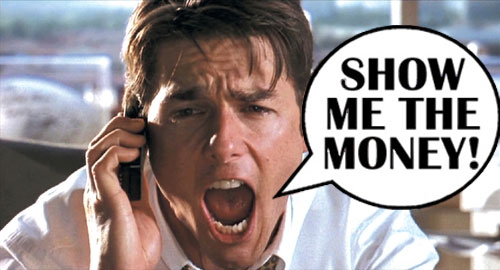 Show Me The Money!
Someone owes you money. How do you get it off them? It's a daunting prospect – after trying to recover a debt by gently cajoling, slightly harder arm-twisting and then threatening to set your lawyers on the debtor, you actually have to instruct a lawyer to protect and enforce your rights against the debtor by legal action. In this Newsletter we summarise typical debt recovery options:
• Letter Before Action: The 'lawyer's letter' requiring payment of a debt (usually within 7 days), failing which one of the following legal actions will typically be taken against the debtor:
• Small Claims Tribunal for claims up to HK$75,000 (no representation by lawyers).
• District Court Writ for claims over HK$75,000 but no more than HK$3 million.
• High Court Writ for claims over HK$3 million.
• Statutory Demand for undisputed debts over HK$10,000. 21 days to pay, or else:
• Bankruptcy Petition against an individual; or
• Winding-up Petition against a company.
If the debt is owed under a contract, the agreed dispute resolution mechanism may provide for the dispute between the parties over the debt to be resolved by the parties by any of:
• Negotiation
• Mediation
• Arbitration (limited appeals to the High Court)
• Adjudication
• Court Action (usually, High Court followed by appeals to the Court of Appeal and ultimately to the Court of Final Appeal).
In circumstances where we at bowers.law recognise that Court action is a long drawn-out, expensive, stressful, distracting, time-consuming and often very public way of resolving personal and commercial disputes and recovering debts, we see our job as doing our best to keep our clients out of the courtroom, and so we encourage the use of alternative dispute resolution methods (mediation is our preferred option) to resolve disputes and to recover debts owed to our clients, who with a mediated settlement can also exert commercial pressure to recover not only the debt, but also the legal cost of enforcing the debt, as well as the cost of the mediation and of putting together the Settlement Agreement.
We advise our clients who find themselves in a mediation process that they will almost never come out of a mediation feeling happy with the end result, but that if they leave the mediation feeling slightly p****d-off, that should mean that they have achieved a decent fair commercial settlement, as the other side will invariably also be walking away with the same slightly p****d-off feeling – which means we've done our job, and done it well!
Please contact Kevin or Kristie at kevin.bowers@bowers.law or kristie.lam@bowers.law if you have any questions about this Room 228 Newsletter.
This Newsletter is not intended to be and should not be relied on as legal advice. You should seek professional legal advice before taking any action in relation to the subject-matter of this Newsletter.