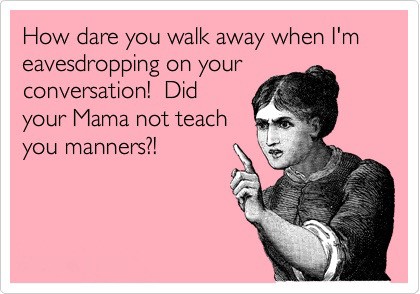 The Phones Have Ears!
bowers.law clients are asking us all the time these days if they are legally allowed to covertly record business or personal conversations, and if surreptitiously recorded conversations with them can be used against them. The omnipresence of smart phone and tablet recording devices (whether in a business meeting at work, or in a personal setting in a restaurant) means that all of our conversations with anyone are susceptible to being recorded at any time without us knowing – but are these secretly recorded conversations admissible as evidence in a Hong Kong Court ?
Admissibility
If everyone who is a party to a conversation knows that the discussion is being recorded, the audio recording is generally admissible into evidence in legal proceedings by mutual agreement and should be treated as credible and persuasive evidence.
If one or only some of the parties to a conversation know that the discussion is being recorded, the audio recording should still be admissible into evidence in legal proceedings, but the evidential value of any such recording is significantly diminished and should be treated with caution. As the UK Court of Appeal recognised in a 2016 case (Singh v Singh) involving a shareholder dispute: "…there is always a risk that where one party knows a conversation is being recorded but the other does not, the content may be manipulated with a view to drawing the party who is unaware into some statement that can be taken out of context. But there can be great value in what is said in such circumstances, where the parties plainly know the truth of the matters they are discussing and are talking (at least on one side) freely about them".
Legal issues generally with secret recordings
admissibility into evidence?
breach of human rights?
breach of confidentiality?
breach of personal data protection rights?
breach of mutual trust and confidence?
Hong Kong legislation
The Evidence Ordinance (Cap. 8) generally covers the admissibility of evidence in Hong Kong's Courts.
Article 14 of the Hong Kong Bill of Rights Ordinance (Cap. 383) outlines that (1) "No one shall be subjected to arbitrary or unlawful interference with his privacy, family, home or correspondence, nor to unlawful attacks on his honour and reputation", and (2) "Everyone has the right to the protection of the law against such interference or attacks".
Anyone lawfully arrested in Hong Kong has the right to a fair trial as enshrined under Article 87 of Hong Kong's Basic Law. Accordingly, the Hong Kong Courts have a common law discretion to exclude evidence based on fairness, which includes evidence that was illegally and unfairly obtained.
This principle was applied in HKSAR v Li Man-tak & Another, where even though the Independent Commission Against Corruption had not conducted covert audio and video surveillance in accordance with legal procedures and had infringed upon the applicant's right to freedom and privacy of communication, the trial Judge refused to exclude the covert recordings as evidence, as he "…could not find any unfairness in admitting such evidence in all the circumstances of the case". The Court of Appeal affirmed the trial Judge's decision to admit these covert recordings as evidence, stating that "…it is important to bear in mind that evidence obtained in breach of the right of privacy is not inadmissible per se."
Depending on the content, an audio recording of a conversation may constitute the collection of personal data as defined under the Personal Data (Protection) Ordinance (Cap. 486) and consequently, subject to the regulation of PDPO.
Under Article 30 of the Basic Law, the freedom and privacy of communication of Hong Kong residents are recognised as fundamental rights, as they "…shall be protected by law…No department or individual may, on any grounds, infringe upon the freedom and privacy of communication of residents except that the relevant authorities may inspect communication in accordance with legal procedures to meet the needs of public security or of investigation into criminal offences."
The Interception of Communications and Surveillance Ordinance (Cap. 589) regulates covert recordings by interception of communications and use of surveillance devices by or on behalf of public officers. However, there is no express law or regulation governing or prohibiting covert recordings by private individuals or corporations.
As to how Hong Kong's new National Security Law will impact individual rights of Hong Kong citizens and visitors and the law on covert recordings in Hong Kong by law enforcement agencies (other than to highlight that the new law should empower security forces to covertly record Hong Kong citizens and visitors suspected of acting in breach of the new law with impunity), we have absolutely no idea!
Breach of confidence
A party who has been covertly recorded may succeed in an action for breach of confidence, if the following elements are proved:
the information must have the necessary quality of confidence about it;
the information must have been disclosed in circumstances creating an obligation of confidence; and
there must have been an unauthorised use of that information to the detriment of the party communicating it.
Breach of implied duty of trust and confidence in an employment situation
An employer who is being covertly recorded may have grounds to summarily dismiss an employee for gross misconduct on the basis of the employee's breach of the implied duty of trust and confidence.
A recent UK Employment Appeal Tribunal decision (Phoenix House Ltd. v Stockman) has given some helpful guidance on the topic of covert recordings. Making a covert recording should not automatically amount to gross misconduct that undermines the trust and confidence between an employer and employee, as there are a variety of reasons why an employee may covertly record meetings and conversations with an employer. Accordingly, relevant considerations for when a covert recording may constitute gross misconduct includes the purpose and content of the recording, the blameworthiness of the employee, and the employer's attitude toward covert recordings.
Top Tips
General
if you want to record a conversation and ensure that it constitutes credible and persuasive evidence in any Court proceedings, disclose the recording to the other participant(s) in the conversation right from the start (not half-way through);
if you do want to covertly record a conversation, be aware that the recording's evidential value should be significantly diminished, and that statements made by the unsuspecting participant in the conversation could easily be taken out of context and that consequently, the entire recording is likely to be required to be disclosed so as to establish context.
Employers
add covert (audio and video) recording as an act of (gross) misconduct in internal disciplinary policies and procedures;
ask employees not to record a discussion or meeting;
ask employees to take their belongings with them if they leave a room for private discussions; and
disclose to employees whether any meeting is being recorded.
Room 228 Take-away…
In general, although a covertly recorded conversation should constitute admissible evidence in Court (albeit with relatively low evidential value), the maker of the recording should think long and hard before making the secret recording, the existence of which when eventually disclosed would break (or at best, severely damage) the trust and confidence that the unsuspecting participant may have had in the person making the secret recording – whether an employer, an employee, a colleague, a friend, or a partner.
In an employment situation, we recognise that an ultra-conservative approach by employers in terms of covert recordings would certainly be to the detriment of a happy, efficient, productive and collegiate working environment, so would definitely recommend a "light touch" policy, so as to maintain staff moral and develop an open corporate culture which wouldn't make employees feel like they have a need to protect themselves in the first place by secretly recording any conversation with any of their work colleagues.
Please contact Kevin or Kristie at kevin.bowers@bowers.law or kristie.lam@bowers.law if you have any questions about this Room 228 Newsletter.
This Newsletter is not intended to be and should not be relied on as legal advice. You should seek professional legal advice before taking any action in relation to the subject-matter of this Newsletter.