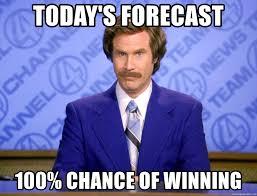 When Winning Feels Like Losing…Or does it?
We recently settled a long-running dispute by a hard-fought negotiated settlement. We were able to avoid long, drawn-out, stressful, energy-sapping and expensive litigation, and our client was much better-off than when they had started with a decent financial settlement and a clean slate. Happy days! Or so I thought…
Shortly after signing on the dotted line, my Associate came into my office and asked me: "Why does it feel like we lost?"
Her feeling was that we could / should have "gotten more" and that we "gave in too easily". She did not feel as though the agreed financial settlement terms were commensurate to our client's pain and suffering. She did not feel vindicated – she felt that our client did not "get their revenge", the offending parties did not "learn their lesson", we settled on "their terms"…"it's just not fair"!
These are all valid feelings. It is difficult not to become emotionally invested in our clients and to feel disappointed when you haven't (quoting a client) "smashed the opponent out of the water."  But in my view, getting our clients to an outcome that they can 'live with' (whether by a negotiated or mediated settlement) is a win almost every time.
We advise all our clients that a large part of our job is to try our best to keep them out of court.  In my experience, when parties succeed in settling a dispute out of court with both sides leaving the negotiation / mediation table feeling "slightly pissed-off", it's a fair deal, as it means that both sides have had to compromise on something that is of value to them – hardly ever is there a clear 'winner' or 'loser'.  What our clients (and my Associate) don't like to hear is that the legal system does not always provide the desired outcomes or remedies for hurt feelings, or to suitably punish 'bad' people or poor corporate behaviour.
Clients who go into any dispute resolution process with these expectations will ultimately be disappointed. Our job (as I see it) as dispute resolution lawyers / problem solvers is to take some (most) of the emotion out of the equation and to manoeuvre our clients into a position which enables them to maximise their financial position, put the past behind them, and move on with their lives.
After several months of the inevitable stress and anxiety involved in a hard-fought negotiation and settlement at the door of the court, our client is now enjoying a lake holiday with his family, he is sleeping through the night (for the first time in almost a year) and has already moved on to planning his next business venture.
I said to my Associate: "This is what winning looks like".
Please contact Kevin or Vanessa at kevin.bowers@bowers.law or vanessa.ip@bowers.law if you have any questions about this Room 228 Newsletter.
This Newsletter is not intended to be and should not be relied on as legal advice. You should seek professional legal advice before taking any action in relation to the subject-matter of this Newsletter.